---
Cobra Golf King Utility
Hand Orientation: Right
Shaft Material: Graphite
Flex: Stiff
TaylorMade GAPR MID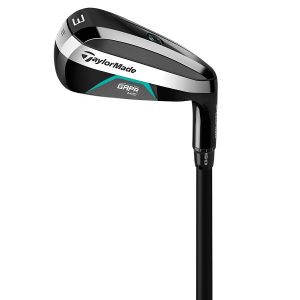 Hand Orientation: Left
Shaft Material: Graphite
Flex: Stiff
Srixon Z Utility U65
Hand Orientation: Right
Shaft Material: Graphite
Flex: Stiff
Fourteen Golf HI 877
Hand Orientation: Right
Shaft Material: FT-16i Carbon
Flex: Stiff
---
Choose the Best Driving Iron
Customer's Choice: the Best Rated Driving Irons
35 users answered this survey. Please help us improve this review!

68.57% of users selected Cobra Golf King Utility, 8.57% selected TaylorMade GAPR MID, 2.86% selected TaylorMade P790 UDI, 8.57% selected Srixon Z Utility U65 and 11.43% selected Fourteen Golf HI 877. Every month we analyze your answers and change our rating.
---
There are a lot of golf clubs to choose from when you are looking for the perfect setting to improve your game. One of the most important types of clubs is the driving iron. These clubs can give you extra distance off the tee, and they are a great option for players who want more control over their shots. 
When it comes to choosing the right driving iron, there are a few factors you need to consider. 
The first is your skill level. If you are a beginner or an intermediate player, you might want to choose a club with less loft. 
This will help you hit straighter shots. However, if you are an experienced player, you might want to choose a club with more loft so that you can get more distance off the tee.
In this article, a few golf experts will answer some common questions about driving irons and provide reviews of some of the best models on the market. We'll also give you some tips on how to use them to get the most out of your game!
2018 Cobra Golf Men's King Utility Iron – the Editor's choice!
This ultra-forgiving club is designed to offer good distance and easy ball striking, making it a great choice for high handicappers. The adjustable loft feature allows you to customize your shots while the lightweight steel shaft makes it easy to swing.
Therefore, whether you're looking to add more yardage to your shot or just want a more reliable club to hit from the fairway, the Cobra King Utility Iron is a great option. Give it a try today and see how it can help improve your game.
The all-new 2018 Cobra King Utility Iron is a true game-changer. It is very forgiving, meaning you can hit the ball well even if you don't make perfect contact. Good distance and easy to hit, it is recommended for high handicappers. You can also adjust the loft to get just the right trajectory for your swing. The lightweight steel shaft provides a superior feel and helps you control your shots.
---
TaylorMade GAPR MID Golf Club – the best for design!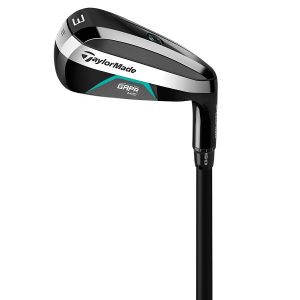 If you're looking for a golf club that can help you achieve great distances with ease, look no further than the TaylorMade GAPR MID. This club is very thin and made of durable C300 stainless steel.
In addition, it features the Speed Pocket technology, which helps to increase ball speed and distance. It's also forgiving, making it easy to hit well even if you're not a pro golfer. And thanks to its adjustable hosel, you can customize your game to match your specific needs. Finally, the non-adjustable weight makes it easy to stay consistent from shot to shot.
The TaylorMade GAPR MID Golf Club is one of the thinnest golf clubs on the market, made with durable C300 stainless steel. The Speed Pocket technology helps you achieve good distance while being forgiving.
---
TaylorMade Golf P790 UDI Utility Club – the best feel!
The new TaylorMade P790 UDI Utility Club is perfect for golfers who want a great feel out the middle and a strong, penetrating ball flight. This club is forged with a face insert for added distance and features Speed Pocket technology to help increase ball speed. It also has a low CG that helps promote a faster swing speed and delivers an incredibly powerful shot.
In addition, it's weighted with tungsten to create even more torque and stability. If you're looking for an amazing utility club that will give you incredible performance on every shot, then you need the P790 UDI Utility Club from TaylorMade Golf.
Experience the power and precision of TaylorMade Golf with the P790 UDI Utility Club. Featuring a forged face insert for an incredible feel out of the middle, this club also has a low CG for a strong, penetrating ball flight.
---
Srixon Z Utility U65 Iron – the best ball control!
Are you looking for a new iron that will up your game? Check out the Srixon Z Utility U65 Iron. This great club offers superb feel and distance, plus improved spin control to help you hit those tough shots. It features a hollow construction for added forgiveness, and the adjustable clubhead weighting lets you dial in your shot.
In addition, the Ripple Effect technology creates a better impact for longer, more consistent shots. And the lightweight crown and Arch Support channel help improve launch and trajectory. Best of all, this quality iron is budget-friendly. So don't wait – get the Srixon Z Utility U65 Iron today!
The Srixon Z Utility U65 Iron is a great choice for serious golfers who are looking for improved spin control and distance. The hollow construction and adjustable club head's weight provide superb feel and performance, while the Ripple Effect technology creates better impact for added distance.
---
Fourteen Golf 2017 HI 877 Hybrid Golf Club – the best style!
Calling all golfers! This is the perfect club for you. The Fourteen Golf 2017 HI 877 Hybrid Golf Club is a hybrid that is made for precision. With its large center portion and slimmer toe and heel, it provides great forgiveness and a high trajectory. In addition, with its bright yellow color, you'll be sure to stand out on the green!
The Fourteen Golf 2017 club can be perfect for anyone looking to up their game. Its bright yellow color is easy to see on the green, and the hollow body construction ensures precision shots.
The 2017 HI 877 hybrid golf club is the perfect tool for any golfer looking to improve their game. Its bright yellow color makes it easy to find on the green, and its hollow body construction ensures precision accuracy. With a large center portion and slimmer toe and heel, this club provides great forgiveness and high trajectory.
---
The Buyer's Guide
 Why Do You Need a Driving Iron?
Driving irons are long iron counterparts that have been bulked up to assist golfers to hit the ball higher and further than standard long irons. Because of the materials employed in construction, driving irons are more forgiving than long irons, and while their trajectory may be lower than fairway woods or hybrids, the reduced launch and landing angles provide more roll [1]. 
This is why golf experts frequently see a lot of professionals carry driving irons during The Open Championship since links golf encourages the ball to stay low to the ground.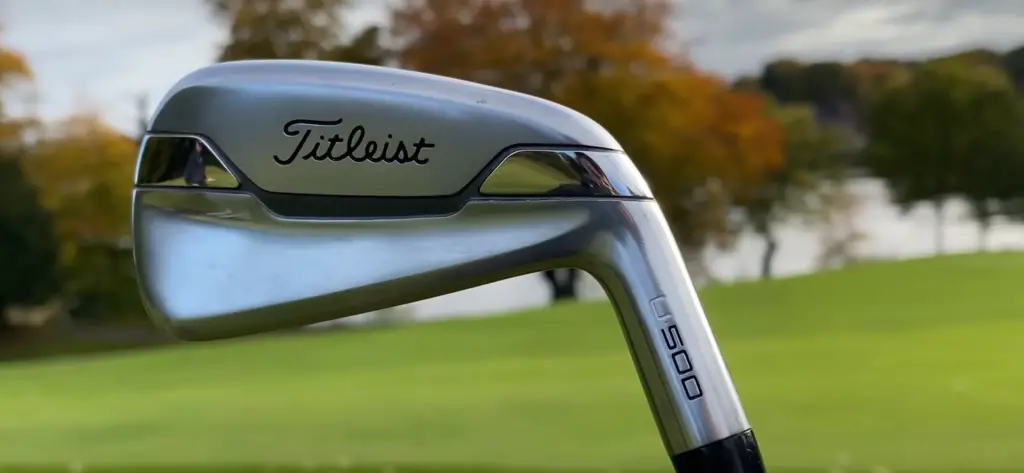 Driving irons can't be suitable for all golfers. They're thought to be designed for strokes with a lower handicap. Despite the fact that they are closer in resemblance to a hybrid than a regular long iron, they need a high swing speed to optimize the ball trajectory and distance.
To utilize a driving iron, you must first gain the privilege. To increase swing speed and get used to the complexities of striking a driving iron, many hours on the driving range will be necessary. The good news is that the driving iron will inevitably make you a better golfer as it requires more precision than any other club in the bag.[2]
If you're having trouble generating club head's speed and distance, avoid these drivers.
It's difficult to know when to utilize your driving iron and leave your driver in the bag. Even the world's greatest drivers may need to forgo distance for accuracy on occasion.
Driving iron is most effective when precision is more important than distance. This does not apply to approach shots from beyond the hole, but a driving iron may be preferable to putting a fairway wood in play on lengthy approach shots where precision is required.
Main Features
Different Types of Driving Irons
There are two types of driving irons:
Utility clubs have hollow heads with weight distributed around the perimeter.

This design increases MOI (moment of inertia) which makes them more forgiving of mishits;

Muscle-backs have a solid construction with weight distributed in the center of the clubhead.

These clubs are designed for more experienced golfers who demand more feel and control;
The sweet spot should be large and forgiving, while the face should be thin to promote faster ball speeds. Lastly, the sole should be wide to prevent digging on contact. 
Course Management
The best driving irons will have a membership system that lets you manage your games and keep track of your progress.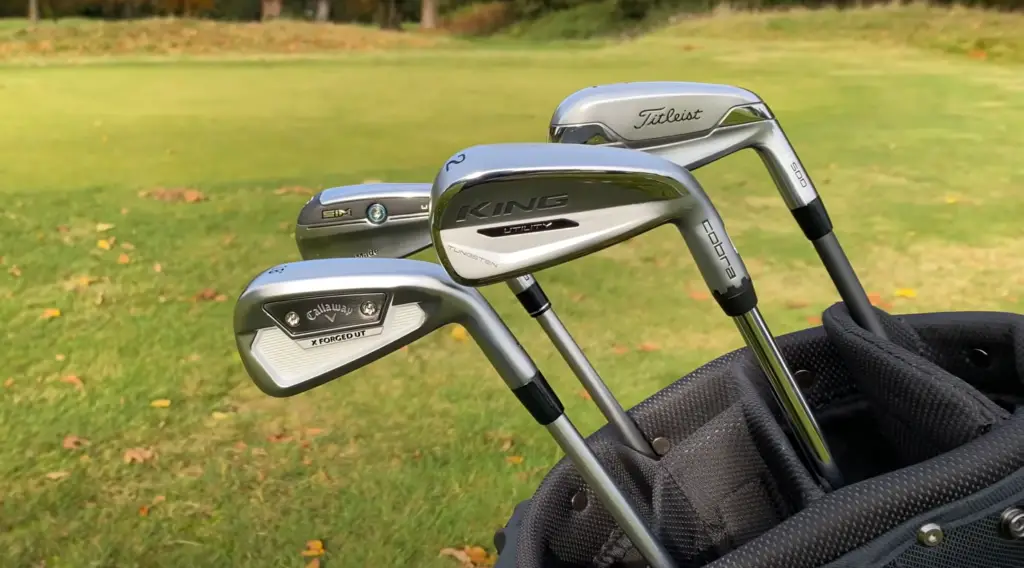 This is important if you want to improve your game. Some irons will also offer online bookings so you can tee off at times that suit you.
Gapping/Loft
One of the most essential things to understand is how much distance your clubs cover. If you know there's a big difference between your three-wood and first iron, for example, a driving iron will fit in nicely. Knowing how much space you'll need at the top of the bag can also help you figure out what loft the driving iron should be.
Distance
A driving iron must not only provide a long-distance but also be workable. Both qualities are crucial since not only do you need to fill the top end of the bag, but you must also be able to fly the ball and move it with a driving iron.
Furthermore, in order to assess the most forgiving option for you, you must test a large number of driving irons.
If you're searching for the most forgiving iron, consider learning about other clubs. A Callaway driving iron is superior to a Mizuno in many aspects. From here, you can determine which pick is the most forgiving to your swing style
[3]
.
Forgiveness
The best driving irons will have a large sweet spot and be very forgiving on mis-hits. They will also have a low center of gravity (CG) which promotes a high launch angle and low spin rate.
Versatility
When considering different types, it's critical to be able to utilize a driving iron off the tee and from the ground when required, so test out several models.  The ability to use a driving iron from different lies will also come in handy, so make sure the sole is wide enough to prevent digging on contact.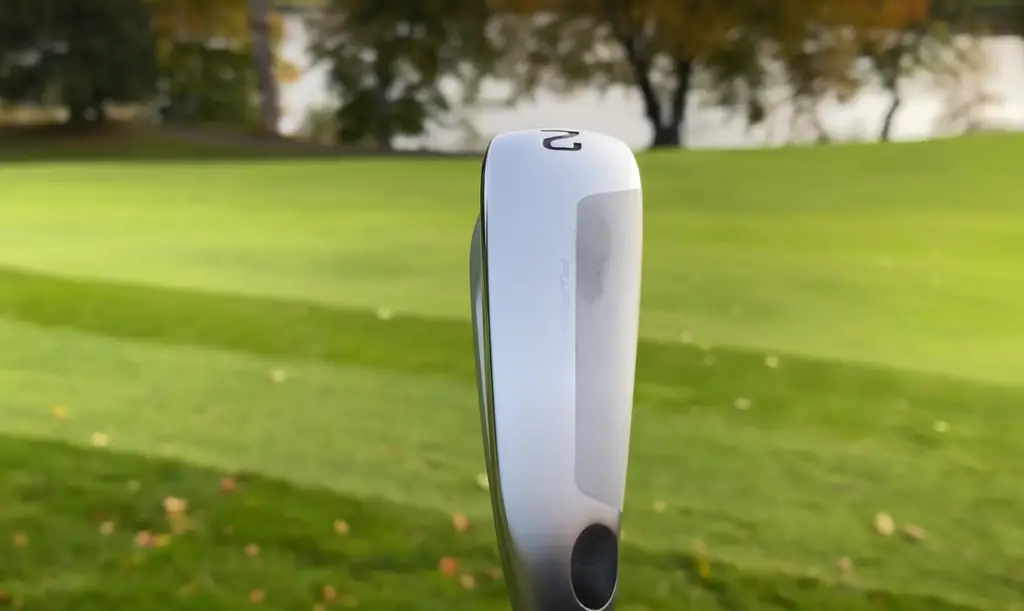 Additionally, ensure that the club you choose has a good range of motion. Some clubs may feel great when swinging but may not offer the same results when hitting balls off a tee. 
The best driving irons will be versatile and able to be used from different lies. They will also have a good range of motion and feel great when swinging.
Looks
When you're looking for a driving iron, it's important to find one that looks good to you. If a club doesn't look good, you're less likely to have the confidence to use it. Additionally, the best driving irons will have a sleek design that won't cause too much drag.
Some golfers prefer a more traditional look while others prefer a more modern look. The best driving irons will be the ones that look good to you and make you feel confident when using them.
Hittability
The main difference between a driving iron and a standard long iron is that it should be considerably simpler to hit than traditional long iron. The sweet spot must be big, and mishits should still produce good shots. 
The best driving irons will be those that are easy to hit and produce good shots even on mishits.
Despite their intimidating appearance, driving irons should inspire confidence and provide a dependable source of fairway hits for the average golfer [4].
Stinger Potential
The flexibility of a driving iron is one of its greatest strengths. One of the reasons for its popularity is that it allows clients to have a strike that runs out after hitting the ball. There's a method to this madness. If you examine the construction of a driving iron, you'll notice that its center of gravity indicates how strong it may be.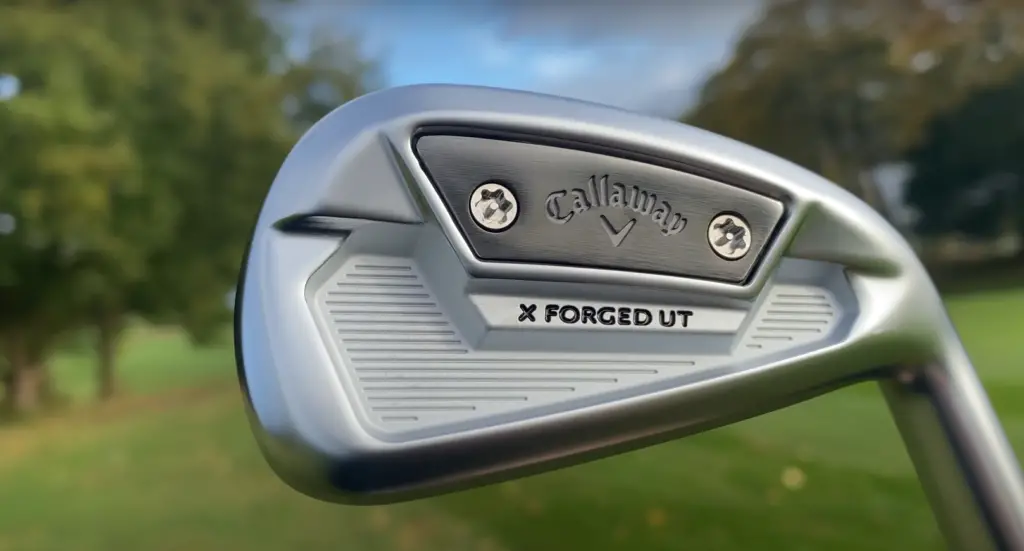 If the center of gravity is too low, it's less likely that your club will sting since this will lift the ball. You want a driving iron that can allow you to smash low and long [5].
---
FAQ
Is a driving iron hard to hit?
No, a driving iron is not hard to hit. In fact, they are often easier to hit than a traditional fairway wood or long iron. The main reason for this is that driving irons have a much smaller clubface than other clubs. This gives you a larger sweet spot to aim for, making it easier to hit the ball squarely and with consistent results.
Another reason that driving irons are easy to hit is that they tend to have more forgiveness built into them. This means that even if you don't make perfect contact with the ball, the club will help you get reasonably close to your target. So, if you're struggling with your long game, investing in a good quality driving iron could be a great way to improve your performance on the course.
Do I need a driving iron?
If you're a beginner golfer, then you probably don't need a driving iron just yet. However, if you're an experienced player who is looking to take your game to the next level, then a driving iron could be a great investment. Driving irons can help you hit the ball further and straighter than other clubs, giving you an edge on the course.
Do any pros use a 1 iron?
The 1 iron has all but vanished from the professional golf scene, with very few (if any) current PGA pros able to bag a 1 iron. However, before technology advanced, the 1 iron was a common feature in the bags of the world's best golfers [6]. 
Is a 2 iron considered a driving iron?
A 2 iron isn't a driving iron. A driving iron has the same loft as a standard 2-4 iron, but it is considerably thicker in order to improve forgiveness, distance, and height. Those are not driving irons if you've ever owned a 2-4 iron with an iron set [7].
Can a driving iron replace a driver?
In your golf bag, the loft of both a driving iron and a driver will be the lowest. The aim of hitting a driving iron is to use it in place of your driver to create a long and piercing shot off the tee. The driving iron might be a difficult club for you to learn to use if you have problems hitting shots up in the air.
How high do you tee a driving iron?
The answer to this question is going to be different depending on who you ask but the general rule of thumb is that you want to tee your driving iron up so that the ball is just above the clubface. This will help ensure that you are able to make solid contact with the ball and get it airborne. 
If you are struggling to hit your driving iron well, one thing you can try is to tee the ball up a little higher than normal. This can help you get more height on your shots and improve your overall accuracy. Just be sure not to tee the ball too high, as this can lead to thinned shots and loss of distance. 
Are driving irons for high handicappers?
If you're a 3-iron hitter, you should consider buying a driving iron as a high handicapper. When standing on the tee and needing a low-penetrating shot with accuracy in mind, choose the driving iron that is suited to your swing and ability and will inspire confidence[8]. 
A driving iron will also help you shape shots when needed. If you want to hit a fade, all you need to do is open the face slightly at the address and make sure your swing path is out-to-in. For a draw, do the opposite – close the face slightly and ensure your path is in-to-out. 
So there you have it – everything you need to know about driving irons! Be sure to do your research before purchasing one and always consult with a professional if you are unsure about which club is right for your game. With the right driving iron in your bag, you'll be hitting accurate, low-flying shots in no time!
Useful Video: Best Utility Irons | Gear Test
Final thoughts 
That's it for now. We hope this article has helped you learn more about driving irons and what to look for when purchasing one. Be sure to check out our guide on the best driving irons available today. In addition, as always, happy golfing!
---
References:
https://www.golfmonthly.com/best-golf-deals/best-driving-irons-213532
https://www.golfmonthly.com/best-golf-deals/best-driving-irons-213532
https://www.belleviewbiltmoregolf.com/best-driving-irons
https://www.golfinfluence.com/gear/clubs/irons/best-driving-iron/
https://www.belleviewbiltmoregolf.com/best-driving-irons
https://www.windtreegolf.com/1-iron-golf-club/
https://outofboundsgolf.com/driving-iron-guide/
https://southamptongolfclub.com/should-high-handicappers-use-driving-irons/