---
Callaway O-Works
Hand Orientation: Left
Micro hinge Face Insert
2-Ball
Callaway Stroke Lab
Hand Orientation: Right
Oversized Grip
Premium
Callaway Red O-Works
Hand Orientation: Right
Superstroke Slim 2.0
Premium
TaylorMade TP
Hand Orientation: Right
Shaft Length: 35 Inches
TP Adjustable Weight System
---
Choose the Best Face Balanced Putter
Customer's Choice: the Best Rated Face Balanced Putters
121 users answered this survey. Please help us improve this review!

44.63% of users selected Callaway O-Works, 15.7% selected Callaway Stroke Lab, 4.96% selected Callaway Red O-Works, 14.88% selected TaylorMade Spider X and 19.83% selected TaylorMade TP. Every month we analyze your answers and change our rating.
---
Are you looking for a great new face balanced putter? This is the secret weapon that golfers all across the world are turning to in order to improve their game. We have the lowdown on a whole new generation of face balanced putters. These are the latest and greatest models that are well worth getting to know.
Odyssey 2018 Red O-Works Putters Mid-Size Pistol Right– Great Finish with a Quality Putt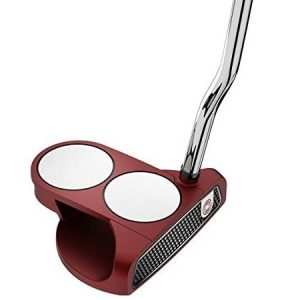 Choosing your putter should never be a snap decision. Every facet of the putter you choose will impact the quality of your play. This means that you need to weigh all of the various factors that inform your choice of a new model. For many players, Odyssey has come out with what they believe to be the definitive face balanced putter model.
The new generation of Odyssey Putters are worth searching out. These handy new face balanced putters are available in stores and on the web. They have been highly rated by industry experts and golf gamers alike. Their consistently high range of design and workmanship is their true seal of quality.
The putt comes with a micro hinge face insert that gives you a wholly unmatched roll. It also has a range of new Tour Proven head shapes that allow the user to experience a whole new experience of player profile. Features include a Premium Super Stroke no-taper fitted with counter core technology for an adjustable grip.
---
Odyssey Stroke Lab Versa Putter– A New Balance to Your Shaft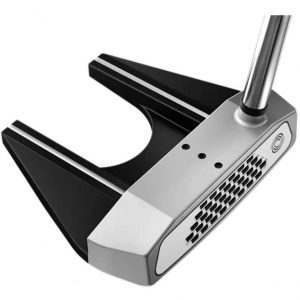 The new Odyssey Stroke Lab Versa Putter is a masterpiece of face balanced putting tech. A number of significant changes have been made to give this model a whole new level of weight distribution. The highly innovative Stroke Lab shaft has been a major gain to the physical dynamic possibilities inherent in each new face balanced stroke.
One of the most important features to note with this new face balanced putter is its very intricate graphite and steel shaft design. This handy innovation saves 40 grams from the total weight in order to reincorporate it into both ends of the putter. This results in a positive upgrade in the cumulative dynamics of its performance.
The Stroke Lab shaft has been placed at an angle that gives it a somewhat sturdier and much lower level of total torque. This is important because when you compare it to the standard putter shafts offered by other companies, you'll be able to see the contrast. This new shaft gives you more control courtesy of its heavier head end.
---
Odyssey 2018 Red O-Works Putters Marxman Superstroke Shaft– A Whole New Level of Grip
The new Marxman Superstroke Shaft is a true work of art. It comes complete with a wide range of features that have already made it a well reviewed and high selling model. These include a patented Micro Hinge Face Insert that will give the putter a roll that few other models can match, much less exceed. It is also extremely cost effective.
This Premium Super Stroke model requires no tape. It has been outfitted with state of the art counter core tech to give it a uniquely adjustable grip. The unit comes in basic black or a new trendy shade of red that sets it off in fine style. The shaft is backed with a full warranty of guaranteed quality direct from the Red-O-Works firm.
One thing that may well be worth pointing out to the casual reader is that this is not necessarily meant to be a face balanced putter for beginning players. The grip on this particular putter may take quite a bit of getting used to. As with any putter that comes with a learning curve, prior testing before buying is a very good idea.
---
TaylorMade Golf Spider – A Revolution for Stability
The new TaylorMade Golf Spider X has been hailed as a harbinger of a whole new level of stability. This is a major innovation in face balanced putters that needs to be taken account of. The firm has achieved a whole new era of alignment and stability by redeveloping the properties of the shaft head via a new True Path Alignment System.
This new system has worked wonders. It enables you to attain to a whole new level of equilibrium by simply refocusing the energy of your swing to a new and optimal center of balance. But it does so in such a subtle fashion that you most likely will never even notice it. Its 320 gram frame is offset with extreme perimeter weighting.
---
TaylorMade Golf TP Patina Ardmore Putter 1- A Great New Face Off
This handy new model comes with a specially designed Single Bend shaft, This new design feature lets you take a totally unhindered view of the face off straight from your initial address. The Double Sightline gives you the ability to sight frame the ball from the address. The sight dot guarantees you alignment to the center face.
The model is equipped with some very attractive components. These are set to include a pure aluminum roll insert as well as a finish of premium patina. The signature TP screws have been designed to complement the fully TP adjustable weight system. This is rounded off courtesy of a specially designed CT Tour Putter shaft.

---
Buyer's Guide
There are a few handy features of each model that the reader should know about before making their final decision. These can quickly be noted below in this convenient Buyer's Guide.
Price
The TaylorMade Golf TP Patina Ardmore Putter 1 retails at an average price of $249.99.
Meanwhile, The Odyssey 2018 Red O-Works Putters Mid-Size Pistol Right model tends to range in price between $179.00 and $474.85.
Most models on the market will vary between these two figures. The putters on this list have been chosen because they represent either the most affordable or highest end models.
Size
The Odyssey 2018 Red O-Works Putters Mid-Size Pistol Right ranges in extent from 33 to 35 inches. Meanwhile, the Taylor Made Golf TP Patina Ardmore Putter is 35 inches in extent. These are the average size variations for face balanced putters in 2020. All sizes are contingent on whether a left or right putter is chosen for the task.
The reader should note that various sizes in between these two norms are available. The putters on this list have been chosen because they represent the most common and popular sizes for putters of this type.
Video Tutorial: Golf Tips: Face or Toe Balanced?
Conclusion
The best face balanced putters are the ones that live up to their name. You want a putter that really does put a brand new face on things. In this case, you want one that gives you a new level of stability, alignment, balance, and precision. You want to cut down on variables, such as torque, that only add to crippling uncertainty.
The models that grace our present list have been chosen for these very reasons. You can rest assured that they have been subjected by our research team to a battery of exacting tests. The goal has been to whittle all of the candidates down to the very top 5 best face balanced putters. The ones listed here have survived the ordeal.
There is no time like the present to take the steps that are necessary to improve your game of golf. This handy new series of face balanced putters will help you achieve this goal.
---