---
TaylorMade Spider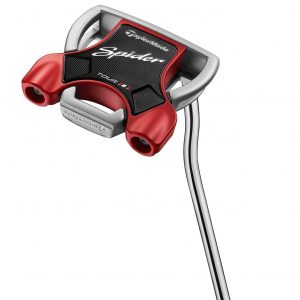 Hand Orientation: Right
With perimeter weighting
Premium
Wilson M1
Hand Orientation: Right
All-weather
Oversize 3 piece paddle grip
Callaway EXO
Hand Orientation: Right
New Stroke Lab shaft
Face Balanced Options
SeeMore FGP Black
Hand Orientation: Left
Shaft Length: 33 Inches
Headcover included
MLA Golf RH Mallet 36
Hand Orientation: Right
Head weight: 360g
Standard loft: 2,5°
---
Choose the Best Toe-Hang Mallet Putter
Customer's Choice: the Best Rated Toe-Hang Mallet Putters
174 users answered this survey. Please help us improve this review!

54.6% of users selected TaylorMade Spider, 12.07% selected Wilson M1, 16.09% selected Callaway EXO, 8.62% selected SeeMore FGP Black and 8.62% selected MLA Golf RH Mallet 36. Every month we analyze your answers and change our rating.
---
If you have an arched stroke and your short game is lacking, it might be time for you to ditch that old blade you're carrying around. We've gathered this year's top toe-hang-mallet cutters. After reading through countless customer reviews and doing some actual putting, we're confident sharing our top five picks. Check them out in the section below!
TaylorMade Prior Generation (2017) Spider Putter– Best Toe-Hang Mallet Putter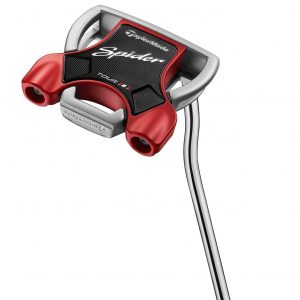 We weren't surprised to discover that TaylorMade's Spider Putter was perfect for golfers with slightly arced strokes. We love the TaylorMade Tour's red and chrome body. The club has a slightly offset hosel as well as subtle (roughly 45 degrees) toe-hang. For this reason, these putters are perfect for any golfer who has a slight arc in their swing.
The putter head redirects weight to the back of the club. It also provides golfers with ample stability and a high MOI. The putter's seamless top crown has a single sightline as well as a geometric sole. The premium design makes it super easy for golfers to set up and align their shots.
The Spider has a milled gunmetal pure-roll insert. It gives golfers a better forward roll across the face. There's also a piece of vibration-dampening PU foam between the body and frame. If you're looking for consistent sound and feel, you'll appreciate extra clubface embellishment.
Keep in mind that this putter's 2.5 loft is a bit small than that of the tour model. As a result, the club has a double-send S-shaped neck instead of a plumbers hosel. Its low price and top-notch design make it one of our go-to short game clubs.
---
Wilson Harmonized M1 Golf Putter– Best Budget Pick
The Wilson Harmonized M1
Golf Putter
is an excellent toe-hang mallet putter for any golfer on a budget. This club has a weight heel-toe head design and plumber hosel. The bright white horizontal lines on the putter head make for much more accurate setups.
Meanwhile, the club's vertical seam grip offers golfers an excellent grip from the start to finish of each swing. Finally, a micro-injection polymer face insert gives golfers excellent feel, superb roll, and perfect sound upon contact.
While this is certainly not the most durable putter on the market, it's still one of the best toe-hang mallets in the budget range. Some customers have complained that the face inserts on their clubs came loose. This mallet putter is available in both right- and left-hand configurations.
---
Odyssey EXO Seven Putter– Coolest Mallet Putter Technology
This Odyssey putter consists of an EXO mallet, a White Hot Micro-Hinge Insert, and Stroke Lab Weighting. When combined, these technologies make one pretty impressive toe-hang mallet putter.
Golfers can expect their puts to have an incredibly high MOI, a consistent forward roll, plenty of distance control, and top-notch sound.
The putter's high-contrast black and red head makes it easy to line up shots. Meanwhile, the club's dotted white sightline makes it easy to center the ball. Users can choose between toe hangs of 24 ( a 3/4 offset) and 28 degrees (hosel is not offset). We love that you can use the prongs on the back of the mallet to lift a ball off of the green. Consumers have a choice between right- and left-hand models.
---
Seemore FGP Black Mallet Putter– Best Mallet Putter
Seemore FGP Black Mallet Putter has a classic bladed mallet design. The head is black with white lines and a red dot. This high-contrast alignment system makes it easy for inexperienced golfers to align their shots. Meanwhile, a precision-milled steel face serves as the perfect launching point.
We're quite fond of this mallet putter. However, the hook and loop closure on the cover is a bit noisy. If you're looking for an excellent middle-of-the-road option, be sure to consider the Seemore.
---
MLA Golf Pro Series Mallet Putter– Easiest Putter to Align
Rounding out our list of the best toe-hang mallet putters is the coveted MLA Golf Pro Series Putter. This club has a durable steel shaft, a toe-hang mallet head, and an interchangeable weight system. The club's lime green, black, and white head stands out against the green.
The color and shape of the putter's head make it one of the best putters in terms of alignment. MLA stands for multiple line activation.
The MLA's hosel shaft and half toe hang face serve as a comfortable setup for most golfers. Meanwhile, the fully milled putter head improves a ball's movements from the point of impact. This cutting-edge golf technology is sure to improve your short game. Keep in mind that this tour-friendly mallet is on the small size.
---
How to Choose the Best Toe-Hang Mallet Putters
Does a perfect putter seem out of reach? Are you confused by all the different putter head configurations? This guide will help you find a mallet putter that is sure to improve your short game.
Length
One of the biggest mistakes that a golfer can make is to choose a club that's too long or too short for their putting stance. Before you can determine what size putter is right for you, you're going to need to get into your putting position. Hold a putter so that the head is directly above the ground. Using a yardstick, measure the distance between the green and the top of your hand.
While putters range in length from 32to 52 inches, most golfers use putters that are 33, 34, or 35 inches in length. An incorrect putter length is going to impact your putting speed and accuracy.
While you're at it, determine whether you have an arched or straight back, straight through putting stroke. A toe-hang mallet putter is perfect for golfers with slow, arched swings. Keep in mind that your putter length should also be a good match for your putting posture.
Loft
A putter's loft is the angle of its face compared to a clubface that is perfectly perpendicular to the ground. Toe-hang putters with low lofts are ideal for golfers with slightly arced strokes. Meanwhile, toe-hang putters with high lofts are perfect for golfers with super arced swings.
Face
Players must choose a club with a head balance that's going to support their stroke style. Putters with toe-hang head balances are ideal for players with arced strokes. Meanwhile, face-balanced putters are perfect for players with straight swings.
It's not always easy to tell the difference between face-hang and toe-hang putters. To do so, balance your putter across your palm. Place it so that each end extends evenly from each side. It should be parallel to the ground. If the putter has a toe-hang, the face of the will be pointing downward. If the putter has a face-balance, the face end of the club should point upward when the club is teetering on a golfer's palm.
Insert
Lots of modern mallet putters boast composite face inserts. These lightweight elements are attached directly to the face of some golf clubs. Inserts enhance the sound, feel, and action of the club.
Hosel
The shape of the hosel also dictates the angle of the toe hang. A slightly offset neck redirects the weight of the mallet. It makes it easier for golfers to get the forward roll they desire.
Price
You don't have to spend a ton of money to get a high-quality toe-hang mallet putter. If you like the look, feel, and performance of a club, go for it. Be sure to avoid products with known defects and weaknesses. For the most part, you should have no trouble finding a reliable toe-hang mallet putter that fits into your budget.
Forgiveness
Most mallet putters offer high MOI, large sweet spots, and ample forgiveness. As such, these clubs are typically preferred by golfers who are striving to improve their short game. There's no doubt that a well-made mallet putter is going to help you control the direction, distance, and speed of your ball.
Useful Video: Trending on Tour: Odyssey Toe Hang Mallets
Wrapping Things Up
Having taken the time to test and analyze several different toe-hang mallet putters, we're happy to name TaylorMade's Prior Generation Spider Putter our top pick of 2020. This impressive toe-hang golf club makes it easy for players to land short-distance shots. Of course, if you're looking for something with more cutting-edge technology, be sure to check out the Odyssey EXO Seven Putter. With that said, all of the previously discussed mallet putters will also have you looking good on the green.
---