---
Tour Shop Fresno
Choose Flex
130g or 132g
Liquid Black Finish
KBS
R-Flex
36.5″
355 Taper Tip
Fujikura
Choose Flex
108 Grams
Graphite
UST Mamiya
Choose Flex
Tip Size: 0.370″
Raw Length: 42″
Dynamic Gold
120g
Right or Left Hand
40.5″
---
Choose the Best Wedge Shaft
Customer's Choice: the Best Rated Wedge Shafts
278 users answered this survey. Please help us improve this review!

13.67% of users selected Tour Shop Fresno, 40.29% selected KBS, 9.71% selected Fujikura, 16.91% selected UST Mamiya and 19.42% selected Dynamic Gold. Every month we analyze your answers and change our rating.
---
Whether you are playing your first game of golf or your hundredth, there are a few good reasons why you may want to change the shaft on your golf wedges. Most clubs come with a standard shaft. These may have a graphite or steel shaft. The material and flex of the shaft make a difference in a person's swing when playing golf.Some shafts give the user more flexibility, while others offer better control. Many people use different shafts for sand and lob wedges. If the rigidity of the club affects your swing, then it may be more effective to vary your shafts.
We give you a variety of wedge shafts to contemplate. You may find a few of these options helpful for giving you the power or striking distance you need for a better golf score. The Buyer's Guide will give you answers to some of the most pertinent shaft questions.
True Temper Dynamic Gold Tour Issue – Best Shaft for Control
Every golfer wants to know where their shot is going to land as soon as it leaves the club. The True Temper Dynamic Gold shaft may be an excellent choice when you want to get the ball out of the clouds and into a more manageable range. Newer players may find this shaft helps avoid dropping to senior or ladies' clubs for getting control of the shot.
Versatile item
These shafts may reduce a wild slice for some golf enthusiasts. The steel construction adds weight to stabilize the swing without drastic cuts to the shot length. These shafts fit a range of club heads, including Taylormade and Calloway.

---
KBS New Tour 90 Steel Wedge Shaft – Best Longer Distance Shaft
Cutting back the number of shots in your game means getting the most distance out of your clubs. The KBS New Tour 90 Steel shaft may make it easier to keep control of the ball with a rigid tip construction for durability and impact transfer. The regular flex shaft may help you retain control while getting you further down the fairway on every shot.
Extra spin and height
KBS says an outside study shows this club gives people about nine percent more distance. The lightweight shaft might make it easier to get more range when hitting out of the sand. The higher loft may help you get over obstacles in the way.

---
Fujikura MCI Wedge 105 – Best Hybrid Shaft
Regular golfers know how the benefits of both carbon fiber and lightweight steel can help a person with their shots. The Fujikura MCI Wedge uses both of these materials to create a dynamic shaft that may improve your performance on the course. You might like how this shaft will add more spin to the hit.
Better lift and curve
This shaft uses technology to help balance the weight of the club. The weight distribution may give your hit a smoother feel. The additional spin will increase the height of the swing.

---
UST Recoil Prototype Hybrid 100 – Best Higher Loft Shaft
Taking a shot from a low spot puts golfers at a disadvantage. A wedge that increases the height of the hit can elevate the shot to get over trees and hills. The UST Recoil also uses a dark design that prevents sun glare.
Ergonomic design
This shaft uses a contoured design that makes it easier for older players, people who want to reduce wrist fatigue, and those with arthritis to get more height when playing. This model works best for players who have the speed for a stiff or extra stiff shaft.

---
True Temper Dynamic Gold 120 Tour Issue Shaft – Best Lightweight Shaft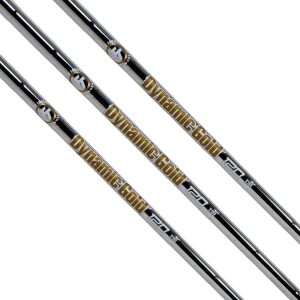 When you spend several hours a week on the golf course, the lighter you can make your bag the better. The True Temper Dynamic Gold Tour Issue Shaft is only 120 grams. This club uses durable, lightweight steel to provide a strong shaft that is responsive.
Professional design at an affordable price
This shaft costs about half as much as some models we are sharing. Users may find this material reduces the weight of their bag by dozens of grams when using these shafts on all their wedges and irons. Buyers may like that this club features precision balancing and weight calibration to adhere to tour specifications strictly.

---
Buyer's Guide for the Top Five Wedge Shafts
What does the length do for the shaft
Just like purchasing pants in different lengths, a club shaft is custom to the height of the player. Buyers may need a shorter or taller shaft depending on the club heads they are using. The manufacturer's information will help users figure out which shafts will fit their current clubs.
What is the difference between graphite, steel, and hybrid shafts
Steel shafts are more rigid than graphite. Graphite shafts use carbon fiber, and they are lighter than steel versions. Hybrid models use a combination of these materials. Most of them add steel to provide stiffness and weight.
How do you know which flex shaft you need
Shafts come in five flex styles. Ladies, senior, regular, stiff, and extra stiff are the types available. Ladies' shafts are the most forgiving while extra stiff ones are the hardest to control yet offer the most distance and loft. A swing evaluation at the golf shop or with a golf professional can help. The speed of your shot and how high you hit will determine which flex style is best for your swing.
Generally speaking, people who hit 300 yards off the tee should go with the stiffest shafts. Unless you are in the PGA, then you may want to go with a more flexible shaft. Regular shafts work for people with a range of 225 to 250 yards. Ladies will use a shaft that is for individuals who do not hit the 200-yard range often.
Is it better to use a heavy or light shaft
A lighter shaft is better for beginners to control. It is also more preferable for people with health problems like joint inflammation. Heavier shafts can increase spin where a lighter shaft may lower the shot. Personal choice is the determining factor here.
Can you use graphite shafts in your irons and steel ones in your wedges
Absolutely. You can customize your shafts in any way that works for you. Some people go for a flexible shaft for additional control when hitting full force shots. These same golfers often prefer a stiffer or heavier club when hitting shorter distances. You can use the same shafts on irons and wedges, or you can use a variety of shafts for every wedge.
Graphite shafts give more flex at the tip, where steel ones are a little heavier. Hybrid models may give users the best weight balance and the most distance. Different weights will affect your swing, so trying out various models can help you figure out which combination works best for your unique style.
Video Tutorial: Which shaft to play in your wedges?
Final thoughts about the Best Wedge Shafts for Golfing
We provide a range of options in our Top Five Wedge Shafts list because what works for one golfer will not work for all. People have different preferences. These shafts range from regular to extra stiff in flexibility. The price, spin, and weight are also diverse to give you a premium selection of shafts to consider.
---